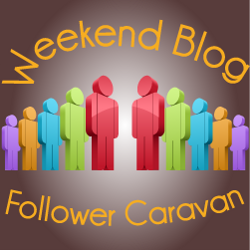 This is the first time I'd be joining the
Weekend Blog Follower Caravan
. I have been meaning to but was not able to do so in the past. So here, I am! I am Vance and welcome to the Purple Plum Fairy's lair (you can check out a few things about me in
here
).
Please feel free to browse and check out what I've written + done here so far. And while you're here please don't forget to follow me on Google Friend Connect + subscribe to my feeds too. I will be sure to return the favor, I promise ;)

You may also follow me on Twitter: @purpleplumfairy. Super thanks!
And don't forget to join in my
giveaway
too. I have quite a few interesting prizes in store for you. Thanks and I'll be expecting you here then ;)
Weekend Blog Follower Caravan is a simple online blogger-helping-blogger weekly meme. It was designed for bloggers to help each other in terms of blog followers either through Google Friend Connect and email subscribers.
Hoping to see you visit my site again soon!